EquiMoves system
Applications
EquiMoves provides high-end tools that can be used by equine vets, equine trainers and breeders, and stud book associations in several application domains.
The interface is designed to show asymmetries in a variety of ways, ranging from an easy overview to in depth stride by stride information. This is paired with quick and easy comparisons of measurements and a report function, making it cutting edge technology for objective lameness assessment.
EquiMoves empowers equine clinicians, trainers and breeders to monitor and optimize performance.
Who can use EquiMoves
Equine vets
Our asymmetry analysis tool makes lameness exams quick and reliable.
Lameness exams
Pre-purchase exams
Sport horse monitoring
Equine trainers & breeders
Equine trainers are able to monitor objectively the training of horses.
Fit to compete

Monitoring training (trainers)
Selection of horses (breeders)
Stud book associations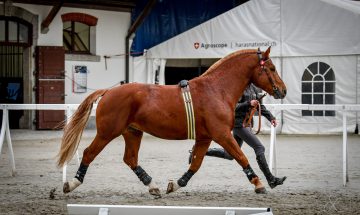 During studbook inspections horses are evaluated for the primary traits of movement.
Fit to compete

Selection of horses
Tool in combination with genomic selection
Interested in an EquiMoves system?
Request more information
If you are interested in using EquiMoves in your activities please send us a message and we will be happy to give you more information.
Send a request
EquiMoves News
In an ample reportage at RTV Utrecht, the broadcaster of the province of Utrecht, the practice at the veterinary clinic of Utrecht University is presented in detail. Technology is used by both veterinarians and researchers to examine the… Read more →
"Innovation at Utrecht University is Changing How We Manage Equine Athletes" is the title of the Horse Network article in the October 2021 online issue. The article presents the advantages of using the EquiMoves system in comparison to… Read more →
Research papers
Hamed Darbandi, Filipe Serra Bragança, Berend Jan van der Zwaag, John Voskamp, Annik Imogen Gmel, Eyrún Halla Haraldsdóttir and Paul Havinga Sensors 2021, 21(3), 798; https://doi.org/10.3390/s21030798 Speed is an essential parameter in biomechanical analysis and general locomotion research.… Read more →